this will become my archive post for my fics, which will be updated as regularly as I can manage until I am up to date.
(
Fics old; and maybe unwanted...
Collapse
)
Here are two fics written way back in the first months after Tara's death in S6 of BtVS was broadcast here in the UK.
(
Two early successful, I think, buffy fics...
Collapse
)
These six stories were all written as fanfics for The Chosen, as opposed to 'in the chosen!verse'. The first five got posted to the website itself; the last has only been posted to my previous lj. Hopefully one day it, it and the several fics I have written for that verse, will get posted to the website too.
(
Fics written for Jet Wolf"s The Chosen...
Collapse
)

These five fics were written in the year following me joining livejournal in 2009. I no longer have posting access to this journal so, if you have any comments on them, can you send them to me here. I hope to change this at some point, but they will eventually be re-posted. Other details, including character; 'verses etc will be added as time passes.
(
My first lj fics 2009-10
Collapse
)
These are all my fics from 2011; a CSI drabble; a crossover and a NuWho S5 fic; but mostly Buffyverse stories.
(
My fics for 2011; the pace increases...
Collapse
)
April 28th 2014
Looked like 2012 was going to be a slow year, but I seemed to hit the afterburners in August; especially helped by the series I started for
elisi
but have yet to complete. Must get on that.
(
Whew! What was I taking in the Fall...
Collapse
)

Please, if you have any comments on the stories mentioned above; particularly if you have advice on changes to The Anyanka Solution and ideas as to what could be used for future Buffyverses from Amshel; then email me at kerkevik2014@gmail.com

They will be most welcome.


Goddess watch over us all,
Ray.
Hi,
Recently i decided that, rather like some of my stories, my muse started to tell me I was telling the wrong one.
I began to see I was looking for the wrong name, so I thought, and decided that TehKek should be the middle name I thought I was searching for.
Thus Kerkevik TehKek ?????
Then I saw this in my lj inbox.
So... Kerkevik Tehkek Hiraeth ~ Kerk for short, and a link, if you squint, to my birth-name; also a character I called and called Rae something like two decades ago when I wrote a few original stories.
What do you think?
Spread the word; feedback on this would be much appreciated.
Goddess watch over us all,
Kerk
Current Location:

Caffe Nero in Dundee

Current Mood:

buzzed, but hot

Current Music:

The Folk Show Sessions
www.bbc.co.uk/news/blogs-trending-36985697
The puppy rescuers of Alexandria
(
The Puppy Rescuers of Alexandria
Collapse
)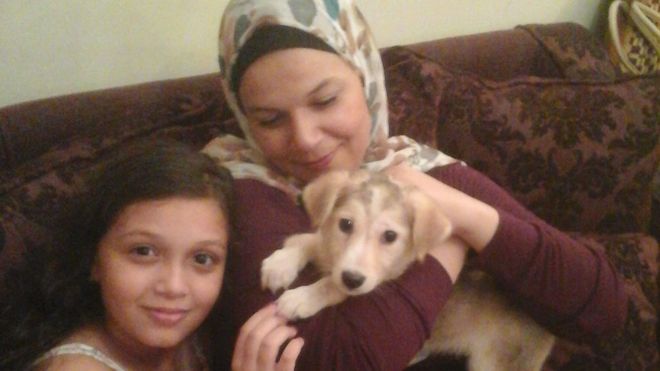 "No one can tell you that we are a nation without hope."
Words from a viral Facebook post in praise of Egyptian animal lovers who acted to save a puppy that was trapped under large stone boulders for more than three weeks.
The puppy had reportedly been abandoned to a slow lingering death by its owners. But a group of volunteers banded together to mobilise a rescue mission which hundreds of thousands followed on social media.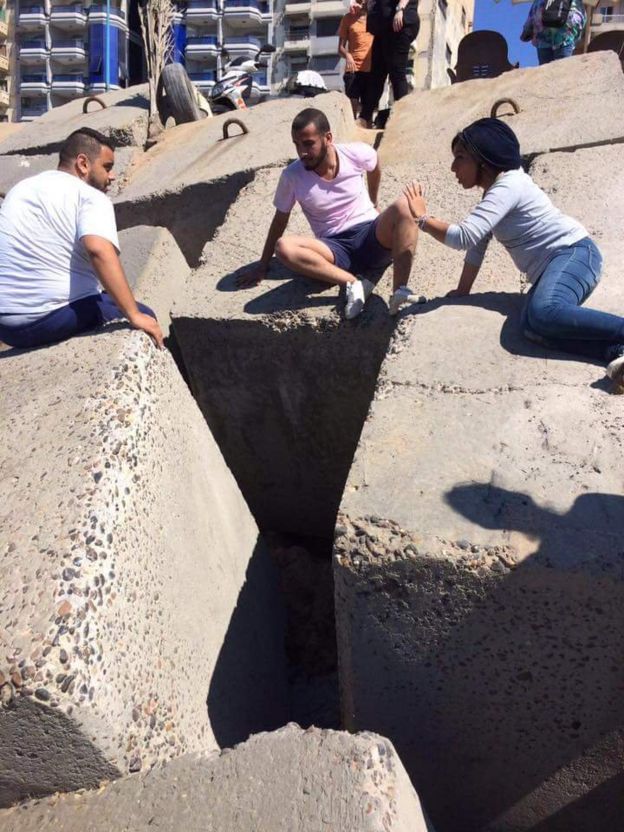 The story begins in early July when Mariem Taha, a 36-year-old resident of Egypt's port city Alexandria, began to hear the unsettling sound of whimpering when she was at a cafe on the famous sea front corniche.
"It was very upsetting sound so I asked the cafe owner what it was, " Taha told BBC Trending, "He said that on the previous day some people had a come with a puppy and the puppy had fallen in between the gaps of the of some stone boulders. The people then abandoned the puppy. The whimpering was very upsetting so I decided to go in search of the puppy.
"The first three days I could hear the puppy but I couldn't see her. So I wasn't sure where to throw food for her, and she may have been scared. By the third day, she was familiar with my voice so she appeared in the gaps. I couldn't reach for her but I could feed her. I decided to name her Babsy Rock."
Taha returned daily to feed Babsy Rock but couldn't work out a way to rescue her. So she turned to a Facebook group called 'Save Innocent Souls'. The group was known to be frequented by animal welfare activists. A post requesting help was met with several people offering to help.
The progress of the rescue was documented on social media and this gallery has been viewed more than 300,000 times online on the photo sharing site IMGUR.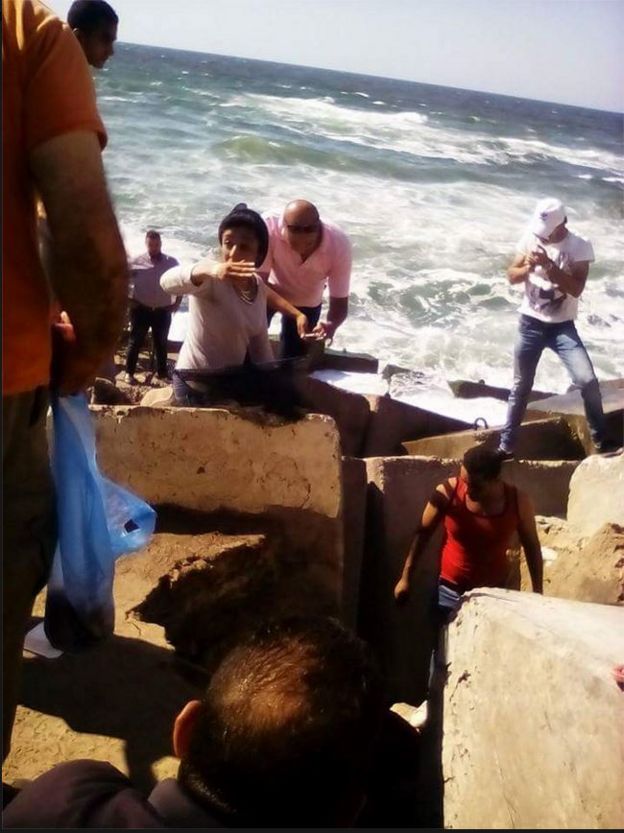 After persistent lobbying, the local authority sent a crane to aid the rescue.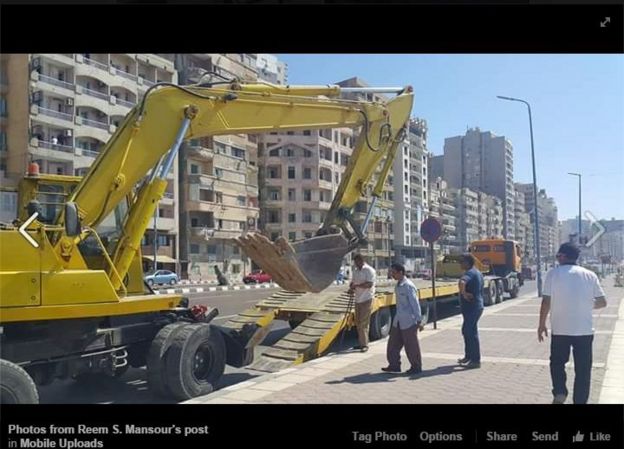 And Babsy Rock was finally freed having spent a total of around 25 days under the rocks.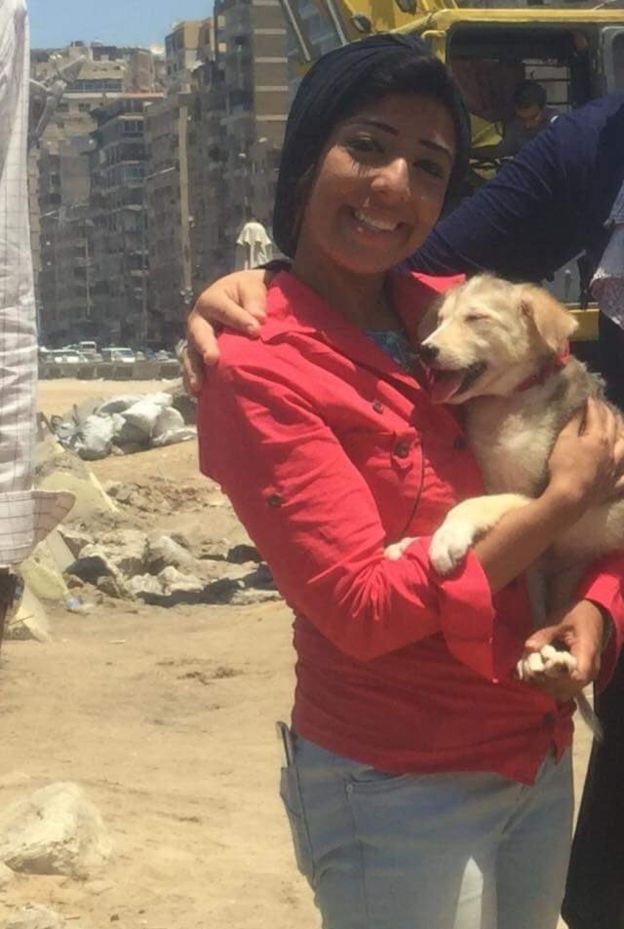 The rescuers told Mariem of Dr Mahmoud Abdelmaksoud a local vet who did check up on Babsy Rock.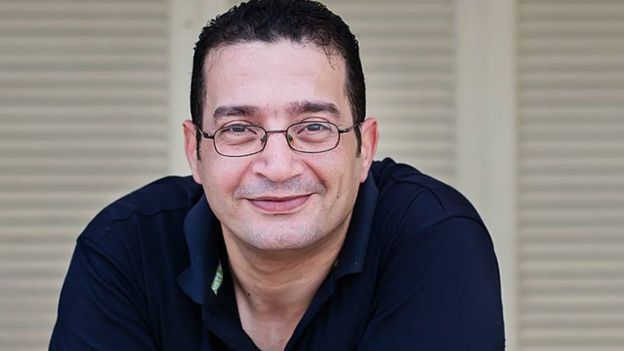 "Dr Abdelmaksoud is an incredible man, a hero. Many volunteers call him to check up on the animals they have rescued and he offers his services for free," says Mau Hamada, who is the founder of one of the animal rescue groups in Alexandria. Hers is called Animal Zone and she says that they are completely volunteer based, and accept no donations.
"Social media was crucial in the rescue of Babsy Rock. Mariem's posts on Facebook mobilised a lot of us volunteers and many people pitched in with the rescue. A lot of information is shared on digital platforms so that we can do our work," Hamada told Trending, "There are dozens of people in Alexandria helping to rescue animals, they either work in self-organised groups like us or individually."
Campaigners have often been critical of Egypt's record on animal welfare. Mau Hamada says that there a range of factors which can result in the mistreatment of animals; "the fear of stray animals, sadistic individuals and some people that say that dogs are not a welcome part of Islam, although they are in the minority."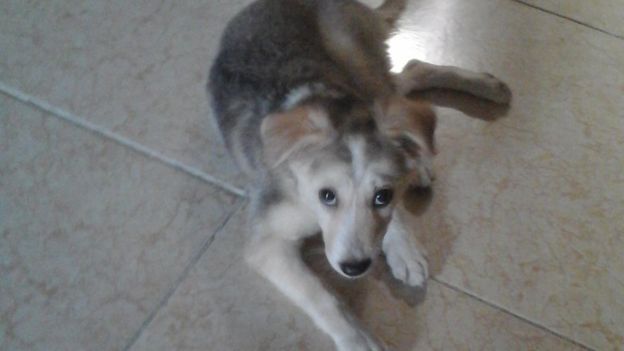 But there was a happy ending for Babsy Rock who has been adopted by Mariem Taha. And how is she doing now?

"She's very naughty," laughs Taha.

Blog by Megha Mohan and additional reporting by Abdirahim Saeed


</div>

Goddess watch over us all,

Instead of my usual here; to honour these wonderful people I put this...
Kerk
kerkevik.tumblr.com/post/148554706123/me-being-a-complete-dorcas-at-belfast-pride
Greatest kudos to the guy who did the complete march; last year as well, using a walker.
Goddess watch over us all,
Kerk



Payback for the weekend I guess.
Down to £40 until the 20th and this is when I choose to lose my last two pairs of glasses! Fiver for one pair is the best I can do in Blair unless I'm prepared to use a broken pair that I have to sit back on my idiotic loser face every few seconds.
The Brexit vote did not make this; but it has made this kind of hatred legitimate. The BBC's constant allowance of UKIP into political debates which their support did not warrant is partly to blame for this as well. They have always been a racist party; little different than the BNP; NF: Britain First, or The British Union of Fascists in the thirties.
We fought and defeated it then; we can do it now.
Calling it Islamaphobia makes it seem less nasty as well. It is Racism!
secure.avaaz.org/en/the_sun_complaint_tech_1c/
12:41 AM (11 minutes ago)
Marching in Belfast on the 6th of August
www.belfastpride.com/
Trains and room sorted for that.
There's a free weekend before Glasgow
www.pride.scot/
for which I might be able to arrange cheaper travel and accommodation, but marching on the 20th whatever.
Weekend after there's
foylepridefestival.com/
on the 27th; followed on the 3rd of September by
www.prideinnewry.com/
for which it looks as though I shall have to stay in Belfast and bus or train it on the day.
Marching for Marriage Equality in Northern Ireland; Trans Rights and, of course, Orlando. If I can find the means I will also try to register my support for BlackLivesMatter as well.
Busy, busy, busy...
But hopefully it will be worth it.
Goddess watch over us all,
Remember alway It's Ok to be
Kerk TehKek
Thought long and hard, but this needed to be written. PLEASE be aware this gets VERY dark!
Originally inspired by a femslash100 prompt; this refused to go anywhere near where I, or the potential recipient would have wished.
MAJOR warnings for torture, and rape. Please don't read if this will hurt you; I felt Fred's rage, not at the writer's though, when Tara was killed, and hope never to go where she so very nearly went. I wrote that story; will re-write it eventually, and will re-post it even though I am ashamed to have written the ending I did. This is a more calculated; speculative look at where the kind of blind agonised rage that Willow experience can take you if you don't hold it in check.
Thus the cut.
(
So sorry; just realised I forgot the cut!
Collapse
)
Goddess watch over us all,


Kerk TehKek